Sci-fi Character Pack 4
A downloadable asset pack
Get this asset pack and 11 more for $22.00 USD
View bundle
Here's my 4th sci-fi pack! sorry it took so long! Same set up as all my other packs.

Merchant 64x64 (one of my fav characters ever made) - idle and run animations

Police Droid 128x48 (New family i'm working on, Police Droid Force) - Idle, run, jump, fall, land, attack 1, attack 2, hit, and death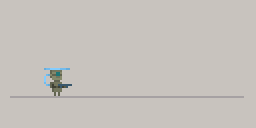 War Droid 156x48 (Part of the Toxic Droid Family, LOVE how he turned out) - Wake, idle, move, attack 1, attack 2, hit and death animations

Feel free to use for commercial projects and modify the characters if needed. Please use Penusbmic If you want to offer me credits. Please do not resell the assets individually. Thank you! Check out my page for some free pixel work and other cool characters!
Check out my entire Sci-fi Series! 1 Free character in every pack!
Download
Get this asset pack and 11 more for $22.00 USD
View bundle
Click download now to get access to the following files:
if you pay $1.20 USD or more
if you pay $1.20 USD or more
if you pay $1.80 USD or more
Comments
Log in with itch.io to leave a comment.
Hey Penusbmic, been trying to message you privately but seems like you have most of that locked down. I'm working on a game right now and would love to commission some pieces from you. Please let me know either here or on twitter (@Dr_Howard_) and we can try and work something out! (Low stress, the game will take a while to make)
Hey! I'm not sure what's going on with twitter lately but I tried looking you up but no luck? Anyways if you have instagram (@penusbmic) that's probably the best way to contact me! Thanks