Sci-fi Character Pack 1
A downloadable asset pack
Get this asset pack and 19 more for $39.99 USD
View bundle
Hey guys! So excited to share this pack, it will contain 3 characters. 1st (Spirit Boxer) for free, the 2nd and 3rd for $2 each, or the entire set for $3!

Spirit Boxer 137x44 (frames in brackets) - he packs a very heavy punch

Idle (4), Attack 1 (6), Attack 2 (13), Attack 3 (10), Run (6), Damaged (4), Death (6)
The attacks chain beautifully!
The Lost Welder (128x64) - he'll leave a burn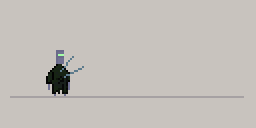 Idle (4), Attack (9), Walk (6), Damaged (4), Death (13)
Sci-fi Samurai (64x64) - he's shifty, he's quick, and he's bloody...?
Run (6 frames)
Jump Attack (12 frames) - added better shadows than shown
This cool ranged super (19 frames) - aso has a laser shot
death (7 frames)
Feel free to use for commercial projects and modify the characters if needed. Please use Penusbmic If you want to offer me credits. Please do not resell the assets individually. Thank you! Check out my page for some free pixel work and other cool characters!
Check out my entire Sci-fi Series! 1 Free character in every pack!
Check out my new series of sprites here!
And a free monster pack!
and some free tilesets!
Download
Get this asset pack and 19 more for $39.99 USD
View bundle
Click download now to get access to the following files:
if you pay $2 USD or more
if you pay $2 USD or more
All 3 Characters (Pack).zip
167 kB
if you pay $3 USD or more